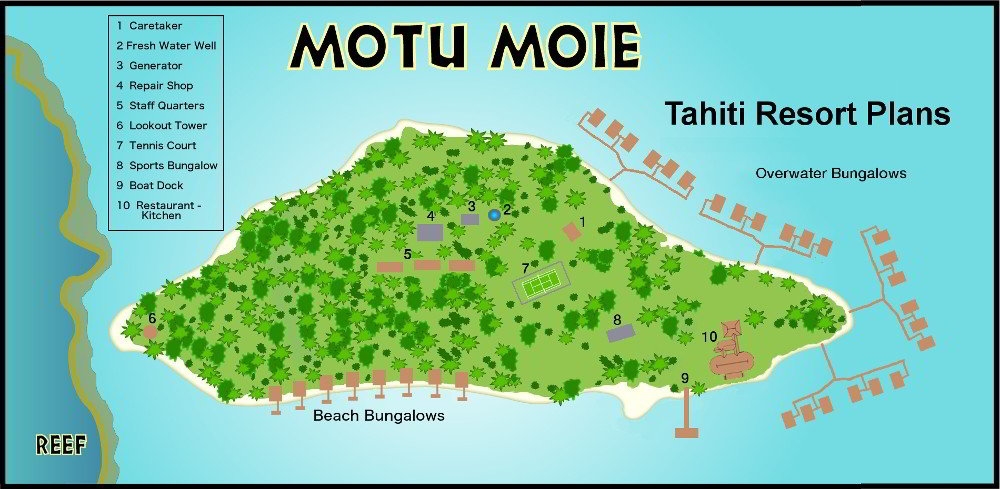 An Ideal Location for a Private Island Resort
Motu Moie is currently for sale. This private Tahiti island is located within the lagoon surrounding Taha'a and Raiatea, in the Society Islands of French Polynesia, 15 miles from Bora Bora.
Motu Moie, Tahitian meaning "faraway isle", is a 40 minute flight, from the country's capital of Papeete, and a 30 minute boat ride from the Raiatea airport. Surrounded by warm shallow waters, with spectacular views, and protected by an ancient coral reef. This is an ideal place for both beach and over water bungalows.
This location offers privacy, yet is close to civilization. Uturoa, on Raiatea, is the second largest city in the country, and has a good selection of lumber, hardware, and supplies. Papeete has everything else that may be needed for construction, as well as experienced contractors.
Local government offices have expressed their desire to help. Workers are available on nearby Taha'a. for both construction and resort staff.
About the Island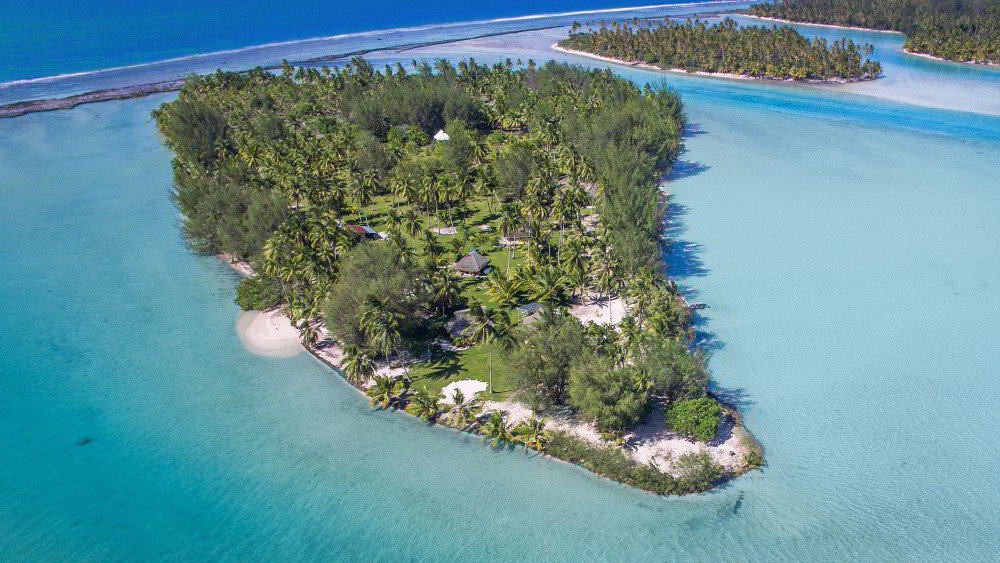 Motu Moie is a privately owned 20 acre island/motu.
A motu is a small island, formed millions of years ago by strong currents against the barrier reefs that surround most of the islands of Tahiti and French Polynesia. Motus are formed from broken coral and reef organisms, that settle on the reefs edge. Eventually trees and tropical plants began to grow, and the motus become the Tropical Paradise Islands of today.
Motu Moie, aptly translated as "far away isle", is surrounded by warm shallow turquoise waters, covered in coconut palms, ironwood trees, and other tropical plants and flowers. Fresh water is supplied by the island's natural coral filtered well, and electricity generated by solar panels, with a backup diesel generator.
The unspoiled surroundings, and friendly Polynesia people make this a  true Eden's paradise.
Bungalow Examples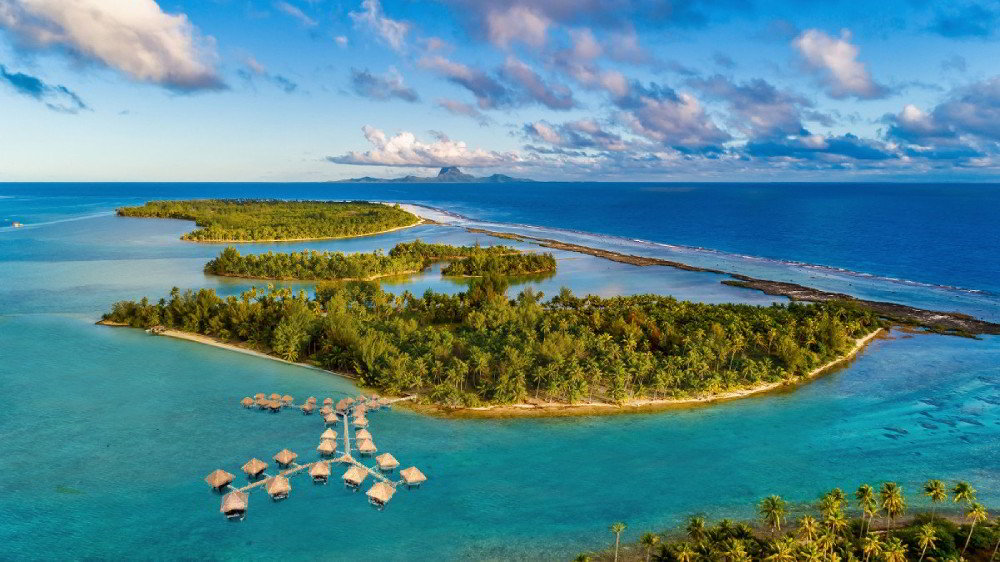 Shallow waters around the motu make it ideal for Overwater Bungalows. Views from the bungalows look out over the protective reef, towards Taha'a, or at the peaks of Bora Bora. Step on to the deck, and into your kayak or take a dip in the warm water.
Various bungalow looks and sizes may be built, depending on the preference of the designer. The property and surrounding waters will accommodate a large number of resort bungalows.
Bungalow Plans
Guest accommodations were designed to have a Traditional Tahitian appearance, with local woods, bamboo, and pandas grass roofs. Modern conveniences including plumbing and electricity add comfort.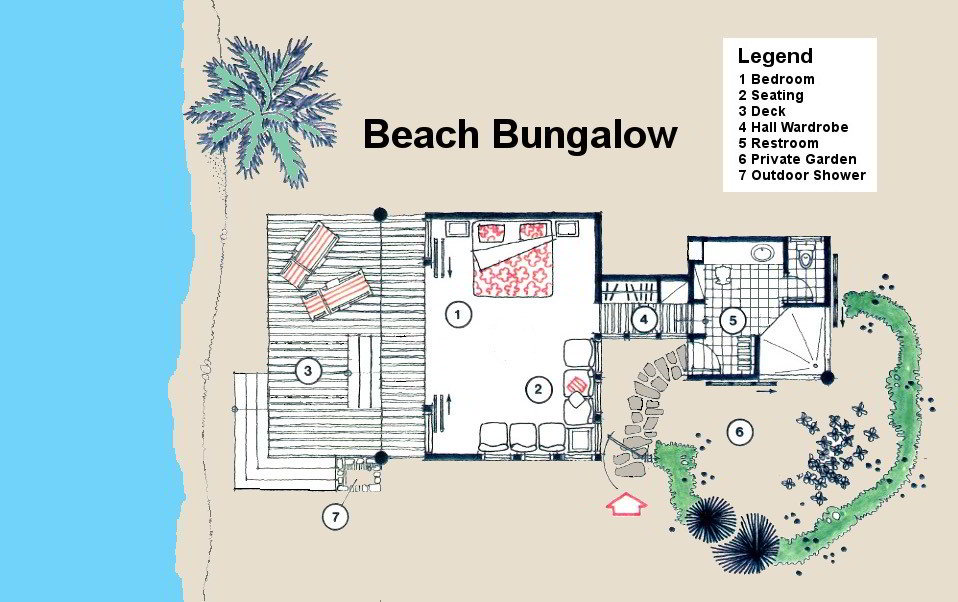 Plan of 2 existing west beach bungalows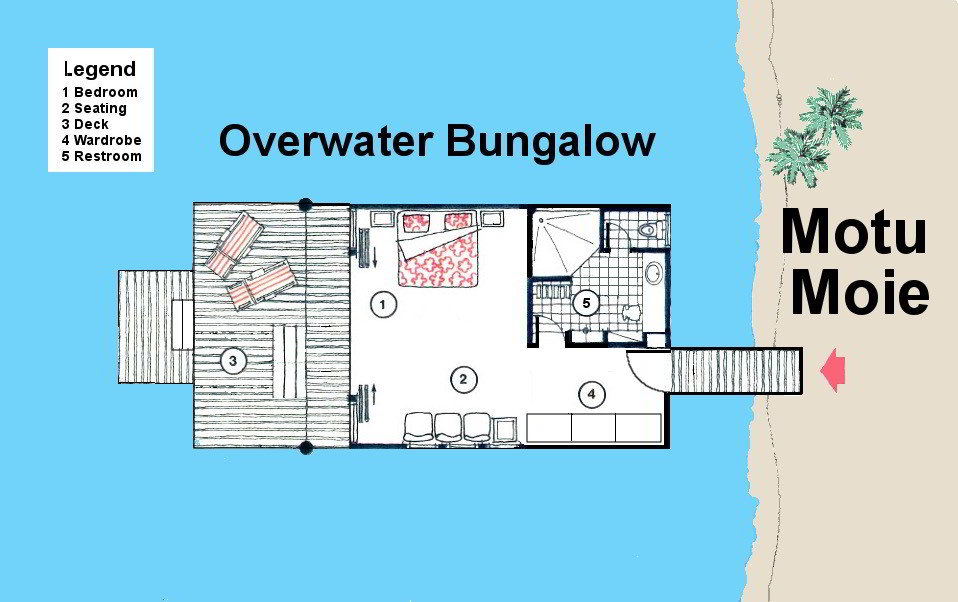 Plan of proposed overwater bungalow
Overwater bungalows can access directly from the beach or from walkways that reach out to the shallow waters of the surrounding lagoon.
Current Accommodations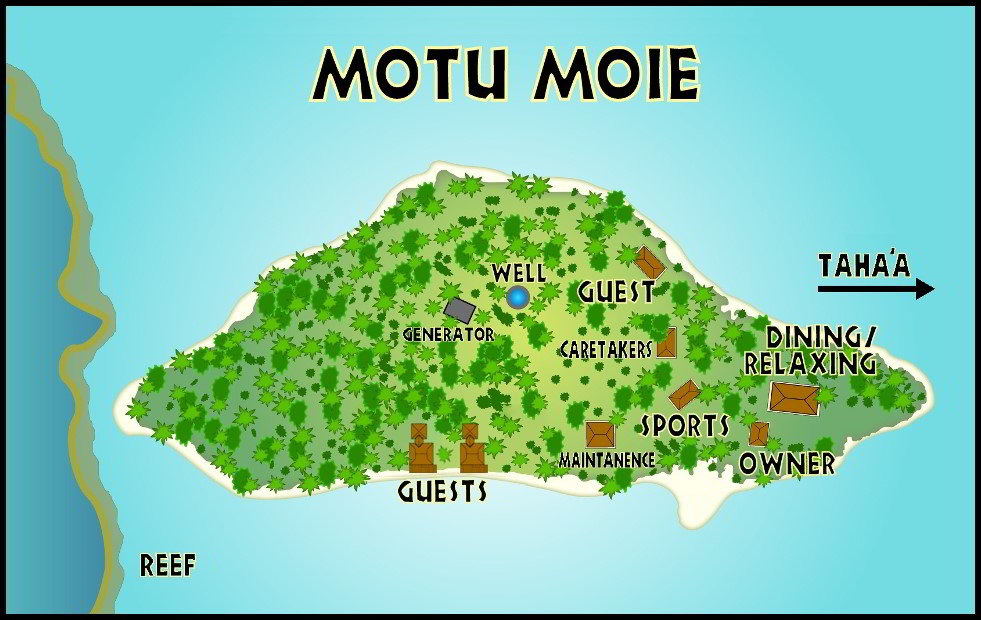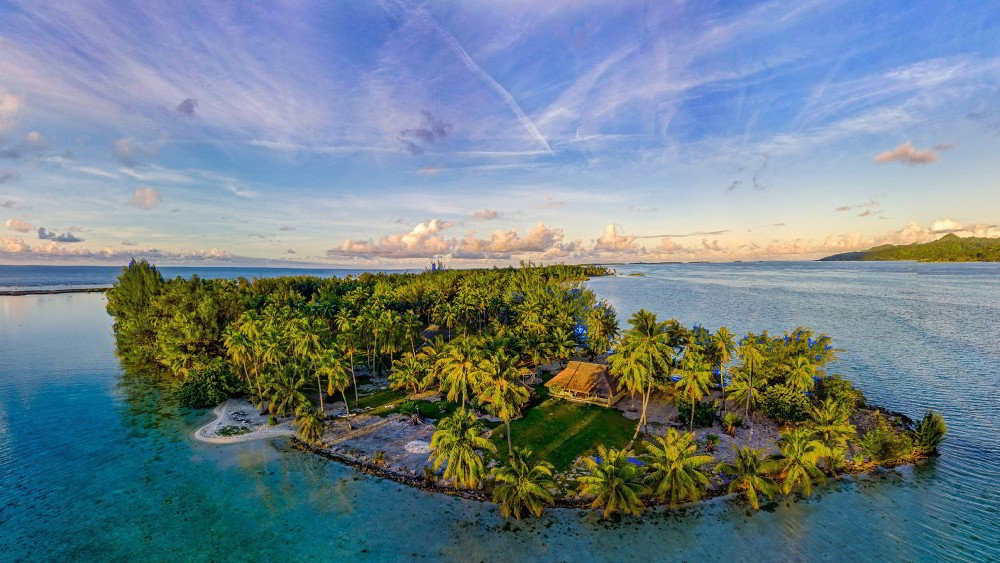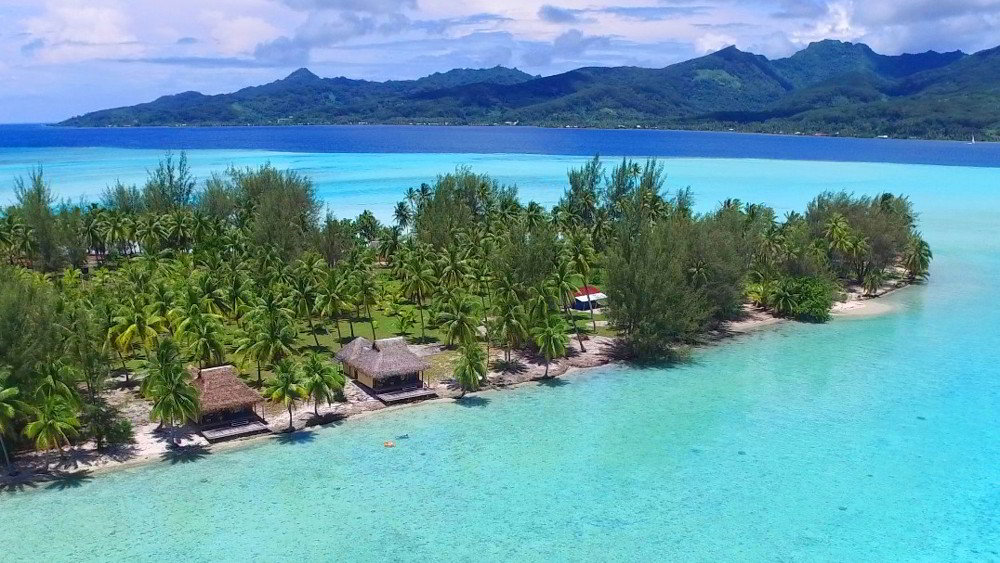 Structures on the island include 4 bungalows with baths, caretakers house, maintenance garage, sports bungalow, and large living/dining room. The kitchen includes cooking and dining utensils, stove, refrigerator, and freezer. Water is supplied by the island's fresh water well and electricity by solar power and back-up generator. The fully equipped sports bungalow includes everything you need for fishing, snorkeling, kayaking, windsurfing, sailing and bicycling.