Private Islands of Tahiti
A Brief History of Tahiti
The numerous Islands of Tahiti were formed by a series of underwater volcanic eruptions that took place millions of years ago. It has a nautical surface area about the size of Western Europe. Due to its remote location, it is thought to be the last place on earth to be settled by humans.
It is widely excepted that migration from Southeast Asia reached the northern Tahitian island group called the Marquesas in about 500BC. Guided only by the stars, this long trek, approximately 2400 nautical miles, was accomplished in large wooden and fiber outrigger canoes. Over the next nearly one thousand years, these Polynesian peoples gradually made their way south to the Society Islands archipelago, including the largest island of Tahiti.
Portuguese explorer Ferdinand Magellan was the first European to see the northern atolls of the islands on his way to the Philippians in 1520. It was not until 1767 that the British explorer Captain Samual Wallis discovered the island of Tahiti, and claimed it in the name of King George III. Soon after, Admiral Louis Antoine de Bougainville, unaware of Wallis's arrival, landed on the opposite side of Tahiti, and claimed the island for France in 1768.
A native Family ruled Tahiti until 1880, when Pōmare V seceded the kingdom to France, and it was then declared a French colony. In 1957, the islands were declared a French Overseas Territory, and officially named French Polynesia. Then in 1977, the French government granted limited autonomy to French Polynesia, and in 2004, its status was changed to Overseas Country of the French Republic.
Today French Polynesia is designated a parliamentary democracy, headed by its elected president and legislature. It has acquired autonomy from France in all areas except police, education, defense and foreign affairs.
Commonly referred to as The Islands of Tahiti, French Polynesia is a collection of 118 islands and atolls, plus many more islets and motu, scattered across a nautical surface area the size of Western Europe. The largest island of Tahiti is home to 70% of the country's population. Its capital is Papeete is a modern metropolis, with international airport, hotels, hospital, auto dealerships, shopping malls, museums, various activities and adventures. The official and predominate languages spoken are French and Tahitian.  English is also spoken by many locals as well, and in hotels and at most shops and restaurants.
Tourism accounts for a substantial part of the country's economy. There are around 160,000 tourists arriving per year. Direct flights from the United States, Japan, Australia, New Zealand, and South America arrive in Papeete daily. Flights from France and other European countries have stopovers in Los Angeles.
The top exports from Tahiti are pearls, fish, coconut oil, and vanilla. The major export destinations are Japan, United States, France, China, and the Philippines.  French Polynesia has a relatively stable economy, due to its partnership with France.
Tahiti is a geographical marvel, seemingly untouched by time.  Its beauty, ideal weather and friendly people make it a sought after destination for tourists from around the world. Traditional Tahitian culture revolves around a philosophy known as aita pea pea, or 'not to worry.' Most Tahitians are not only generous and friendly to each other, but also to all island visitors.
Why Tahiti?
Growing up in Los Angeles, I seldom traveled outside of Southern California. I had certainly heard of Tahiti, but had not yet dreamed of ever going there.
In 1980, I finally took a break from working to check out the world. During the following years I visited 20+ countries, and finally in 1984, I stopped by Tahiti, on my way to Australia. It was a short but life inspiring visit, and my new goal was to some day purchase a private tropical getaway in French Polynesia, often called Tahiti, its largest island.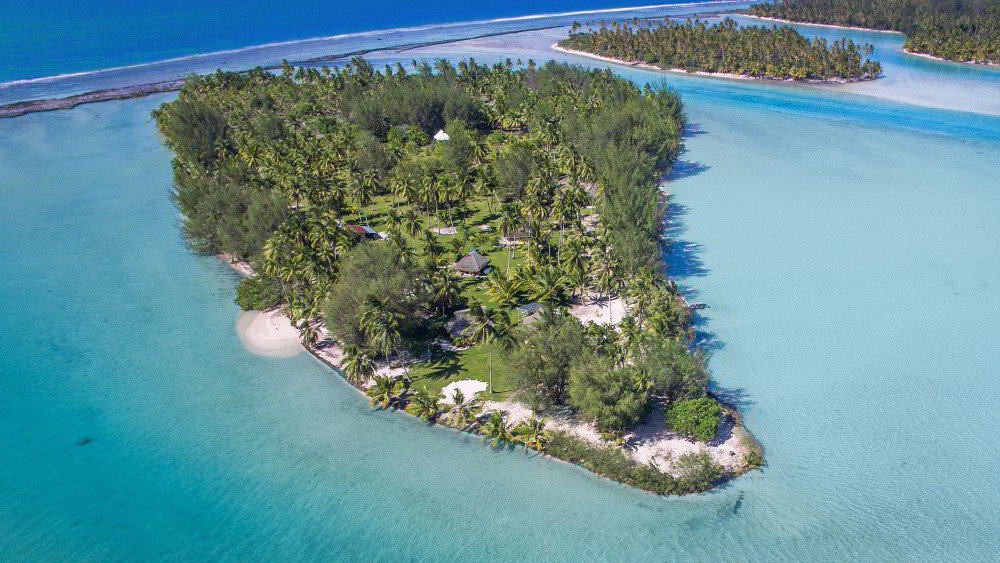 Then in 1988, fate took a turn. A contractor I worked with told me he was going to Tahiti to check out a possible construction project on one of the  Private Islands of Tahiti, that was being purchased, and would I like to come along. Oh yea.
While there, we learned just how difficult purchasing property in French Polynesia can be. According to French Polynesian civil code, all members of the families must own equal shares of property. Multi generation inheritance increases the number of owners. When a family member dies, each one of their children automatically own an equal share of the property. This makes simple ownership extremely difficult.
The island property with the proposed construction project was owned by 41 family members, and each one must agree to a purchase of their island. This didn't happen, and the proposed construction was cancelled. Most resort hotels are leased to the developers, as the Tahitian owners prefer to keep the title in their family. So, after a few days in paradise, we returned to Los Angeles. But shortly thereafter, I received a call about a Private Tahiti Island for Sale. Although I had only ever thought of purchasing a piece of land with a vacation home, I thought- why not take a look. This island was owned by a French couple, who had purchased it from a Tahitian brother and sister, the last members of their family, who had no children. I checked it out with a Tahiti attorney, who said it could likely be purchased.
I headed back to Tahiti, took a 40 minute local flight from Papeete to Raiatea, where I was greeted by the French owners. From the airport, it was a 30 minute boat-ride across the lagoon and around Taha'a. Through this spectacular tropical paradise, surrounded by crystal clear turquoise water, we approached Motu Moie, its Tahitian name meaning "far-away isle". Even before we landed, my life was about to change forever. I suddenly knew this was the place for me, so long as the purchase could be made.
Once landed, we relaxed in the living room/kitchen, for a snack and discussion about the island and local surroundings. Additional buildings included the owners bungalow, a generator building for electricity, utility garage, and beach hut. The owners had recently moved back to Papeete, but had lived here, on the island since their purchase in 1978. We  took a walk around and across the island, discovering its diverse tropical landscape, and spectacular views in every direction. The island was surrounded by shallow waters, and living coral gardens, and protected by an ancient reef, on the north end. We stepped up onto the reef, and could see the peaks of Bora Bora, 15 miles to the west.
Returning to L.A., I stayed in contact with the owners, and continued the legal inquiry about the purchase. All looked well, and we created a French Polynesian company, Au Bout du Monde, owned by my U.S. company, that purchased the free and clear title to Motu Moie, my own Private Tahiti Island.